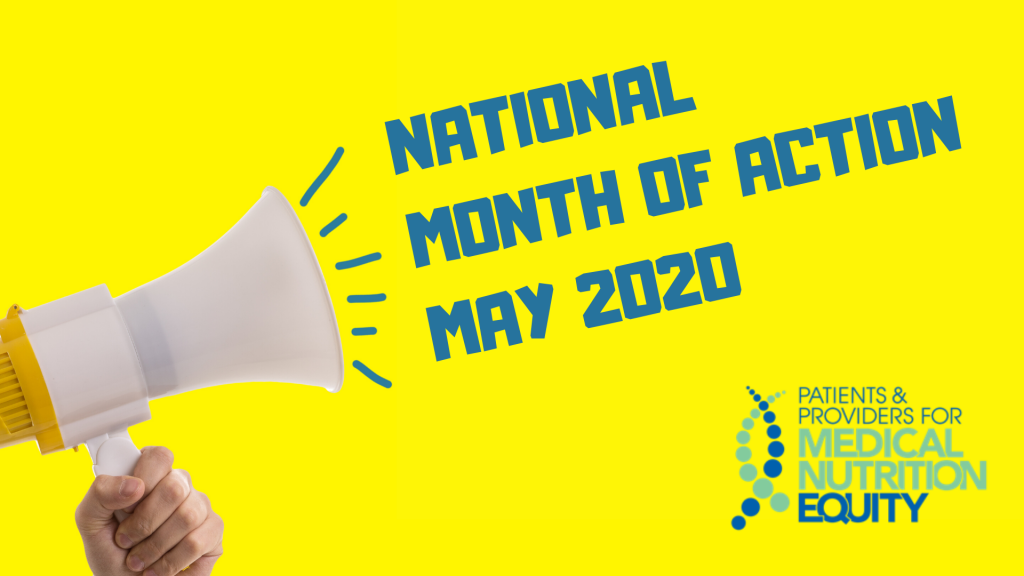 We are extending the National Medical Nutrition Action Day to the rest of May! This is a great opportunity to leverage the action you took on May 19, but no matter who you are or where you live, YOU can help make the Medical Nutrition Equity Act law! Numbers are critical on Capitol Hill, so we are asking everyone who cares about passing the Medical Nutrition Equity Act to get involved! We need Congress to know how many people want to see this bill passed. Please take action using as many of the methods below as possible so that Congress gets the message and feel free to take action again and again!
1 Contact your U.S. Senators and Representatives and ask them to co-sponsor S. 3657/ HR 2501, the Medical Nutrition Equity Act. If your senator or representative is already a co-sponsor, the system will automatically generate a "thank you" letter for you to send. Please note that it is OK to send repeat requests! Just let them know that you've made a previous request by personalizing the letter.
2 Share your medical foods story. These stories are critical for our on-going advocacy efforts. We provide those stories directly to your legislators, so that they can see first-hand what this legislation means to their constituents. We also use them to show why this legislation is needed for the range of covered conditions. There are many states and conditions for which we are lacking stories. Please help us build this critical resource by sharing your story today!
3 GET SOCIAL: Enter your condition here and a custom Tweet will be generated for you to post to your members of Congress. Just remember to add their Twitter handle.
4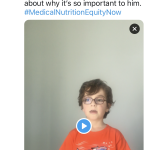 Here's a special activity for kids to both learn about the legislative process and make their voices COUNT! Watch this timeless video (Schoolhouse Rock: I'm Just a Bill). Did you notice how the idea for the bill came from "folks back home"? That's how the Medical Nutrition Equity Act got started too! Your Senators and Representatives represent YOU, so they want to know what they can do to make your life better. Tell them that it's time to take our idea and make it a law! Make your own video to tell your Senators and Representative how this bill would help you and your family. Record your video on your iPhone or Android. It should ideally be under one minute long. Find your Senators' and Representatives' Twitter handles here. Create a message for your tweet and upload your video. Don't forget to include your member of Congress' twitter handles! See the example at left. If you don't want to do a video, feel free to write your legislators' a letter and/or make a picture or sign and have your parents post a picture of that instead.
5 Fill out our survey about whether COVID-19 is impacting your medically necessary nutrition needs.
6 Ask your friends and family to join you in today's Day of Action by sending them a link to this page.
7 Get Credit for Your Efforts! Click here to fill out an action report!
If you've done all of these action items, but are looking for more, please check out our Get Involved page for more action items!